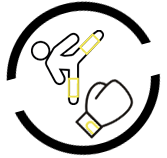 KICKBOXING AND
BOXING TRAINING
Murthel Groenhart is your trainer when it comes to Dutch style kickboxing. He brings many years of experience and is still active as a professional fighter. Whether you are a complete beginner, a seasoned professional and want to fine tune your skills for an upcoming fight, or just want to learn kickboxing or boxing to become fit or lose weight, he'll adapt to your goals and skills.
STRENGHT AND CONDITIONING TRAINING
As a professional athlete still actively competing at the highest level Murthel can share many of his drills and methods to enhance your speed, flexibility, power, explosiveness and improve your overall athletic performance or simply to help you tone up.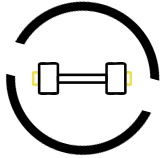 WEIGHT
TRAINING
When your goal is to become stronger, toned and more muscled, Murthel focuses on weight training with you. You can also expect this to be part of your strength and conditioning program, to gain more power and explosiveness.